Pre-Kindergarten 4-5 Years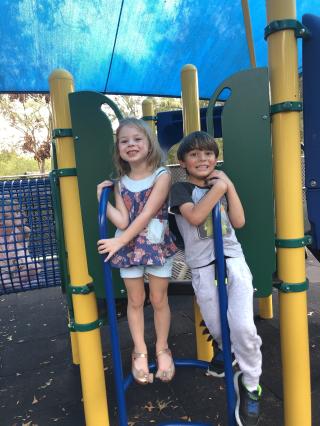 Kindergarten readiness begins with a strong foundation in the fundamentals of Motor Skills, Language Development, Mathematics, Social Studies, and Science. Classroom instruction includes large and small group activities providing students with opportunities for individualized learning and group discussions. Creative teaching concepts utilizing hands-on activities help make learning fun. Our Pre-K program strives to instill a love of learning that our students will carry with them throughout their lives.

Building on the Pre-Reading skills taught in our Pre-Schoolers classes, our Pre-K will focus on phonemic awareness, sight words, and simple sentence structure, helping our non-readers to become readers. The Pre-Writing skills are also enhanced with fine motor control, cutting skills, and correct grip to foster a solid foundation in preparation for Kindergarten and beyond.
Program Highlights:
Reading Readiness/Phonics - sight words, simple sentences, blended sounds

Mathematics - number concepts, measurements & patterns

Social Studies - introduction of historical figures, geography, community helpers

Science - concepts in areas of Space, Weather, Dinosaurs, Bugs...

Motor Skills - Writing, Tracing, Lacing, Cutting, Drawing & Painting, and more
Pre-K 3
3-Day or 5-Day
This is an exciting time for your Pre-Schooler in the classroom setting. For many little ones this will be their first experience in a school setting. Children become more independent at this age and enjoy finding the extraordinary in the ordinary. The ability to communicate more effectively opens your little ones up to a world of learning potential. Your child is learning how to put words together into sentences and now possesses a 200 + word vocabulary. They can grasp simple multi-step instructions and complete tasks more independently. Our teachers strive to bring the best out of their students each day. We encourage student's curiosity and exploration while providing an environment of structure and responsibility. The foundations set in place in our Toddler 2's program become the building blocks for our Pre-Schoolers 3's classrooms.

The time between 3-5 years is a critical phase for children to begin reading. Pre-Reading skills include recognizing familiar letters and even simple 3-letter words. Children will begin generating rhyming words as well. Pre-Writing skills will focus on proper grasp of drawing and writing tools and tracing and writing letters and numbers. Socially they begin playing together in groups, using their imaginations to create and adapt role playing with classmates. Pre-Math focus' on number concepts, spatial relationships and shapes, measurements and patterns.
Our goal is to prepare your Pre-Schooler for the stronger academic programs ahead of them.
Toddler Classes (2's)
Toddler (2's)
To a Toddler, the world is filled with new and exciting discoveries each and every day. Our goal is to guide your child in a safe, nurturing classroom environment where they can comfortably explore, discover and learn together.
Play is essential for your toddler's development. It helps to nurture imagination and give a child a sense of adventure. Through cooperative play, children can learn essential skills such as problem solving, socialization, working with others, sharing and more.
Early Math Skills are introduced through counting, sorting and identifying numbers. Pre-Reading Skills focus on letter recognition and phonological awareness through rhyming poems, stories & songs and blending sounds. Motor Skills are enhanced with the use of puzzles, blocks, coloring and painting. Finally, music is a delightfully fun way to tie in all of these fundamental concepts through song and dance. Together these concepts build a foundation of learning to prepare your toddler for the next step on their educational path.